Well looky what I found. Great organ concert of Eastertide music on a relatively new Fisk organ at St. Chrysostom's, Chicago. Video included here since it already took place. Stop list below. Both organists are great and show the versatility of the instrument.
George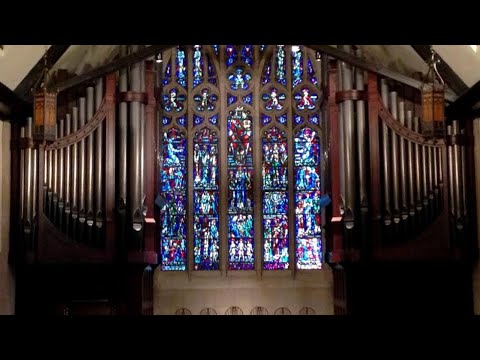 C.B. Fisk, Opus 123, 2004
There are 24 voices, 33 ranks, 1,729 pipes, the manuals are 58-notes, the pedalboard is 30- notes, straight and concave. The stop-action is electrically controlled solenoids.
| | | |
| --- | --- | --- |
| Pedal | Great | Swell |
| 16' Contrebasse | 16' Prestant | 8' Viole de Gambe |
| 16' Prestant Great | 8' Octave | 8' Voix Céleste |
| 16' Soubasse | 8' Spire Flute | 8' Bourdon |
| 8' Octave | 4' Octave | 8' Flûte Traversiere |
| 8' Bourdon | 4' Open Flute | 4' Prestant |
| 4' Super Octave | 2' Fifteenth | 4' Flûte Octaviante |
| 16' Trombone | IV-VI Mixture 1 1/3' | 2' Octavin |
| 8' Trumpet | 8' Trompette | IV Plein Jeu 2' |
| | | II Cornet |
| | | 16' Bombarde |
| | | 8' Trompette |
| | | 8' Hautbois |