Glorious pipes wrapped up as quake work begins
$43 million strengthening project under way
By KATIE CHAPMAN - The Dominion Post | 5:00AM - Friday, 08 November 2013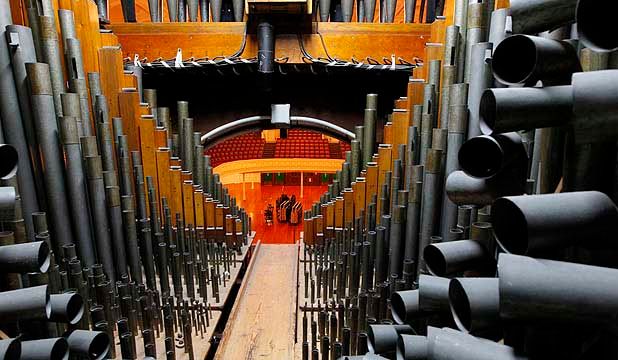 DELICATE JOB: Taking apart Wellington Town Hall's 4000-pipe organ is expected to take at least five weeks.
— ROSS GIBLIN/Fairfax NZ.
I
T WEIGHS 50 TONNES and has pipes up to three storeys high — and next week, it's going to be taken to bits.

Wellington's Town Hall Organ was installed in 1906 and features more than 4000 pipes. Its home was officially locked to the public yesterday, as the mammoth task of earthquake strengthening for the 109-year-old building starts.

The building is expected to be shut for up to three years while the $43.7 million project is under way. Workers are now removing artworks and furniture from the building, in preparation for floors to be pulled up and new foundation piles and base isolators installed.

That job includes carefully dismantling the massive organ. Scaffolding will start being put around it this weekend, to allow the five-week job to begin next week.

Contractors from Timaru have been hired for the job, and while some parts will be stored in Wellington, two 12-metre containers of pieces will be shipped south for restoration.

The project will cost $1.45 million, of which $847,900 comes from NZ Lotteries.
PROJECT MANAGER: Geoffrey Snedden.
— ROSS GIBLIN/Fairfax NZ.
Wellington City Council Town Hall strengthening project manager Geoffrey Snedden said taking the organ apart would be a complex exercise.

"We will lay it all out on the floor, wrap it all up, label it ... some of the organ hasn't seen the light of day since it was put in."

The Town Hall is renowned for its acoustics; one of the last events in the building before it closed was the recording of the score for The Hobbit: The Desolation of Smaug. The score for the third movie in the trilogy will now have to be recorded elsewhere.

"Everyone that worked on the recording thought the building was in the top three in the world in terms of acoustics," Sir Peter Jackson's spokesman Matt Dravitzki said.

Mr Snedden said most of the work was taking place below ground-floor level. The plan was to install an "isolation plane" with base isolators that would act like "shock absorbers" in a quake. Below them would be pile caps, and then piles going down about 35 metres, he said. That would bring the building up to about 140 percent of the new building code.
http://www.stuff.co.nz/dominion-post...ke-work-begins