Hi Everyone!
I had shared this with another group last year, thought I would show it here as well. I had come across a reed organ (1873 Mason & Hamlin) that was in terrible condition, it was not going to get restored so I parted out the parts that were reasonable. The keys were the most brown ivory I have ever seen, I was certain that there was no way to bring them back - so that was a perfect opportunity to run some tests without worrying about destroying them.
Here are the keys, I cleaned and lightly sanded the one on the right, it was a little less brown and more yellow now.
Each key was tested with different techniques that I had heard about over the years, from whitening toothpaste, to Oxiclean Bleach, to Clorox Bleach, ammonia to UV light. The results that worked out the best for me were none of the above - my daughter likes to restore 'vintage' video game consoles (1985 is vintage compared to a reed organ?), which yellowed plastic cases can be restored to new using 40 VOL hydrogen peroxide and let it sit in sunlight for a day. So I tried this with one of the ivory keys, but instead of sunlight I used a UV light for 72 hours. Below, one key was coated with H2O2, and the other had toothpaste on it, in the UV light:
The bleach, ammonia and heat tests did more damage than anything, causing deep score marks in the grain of the ivory, and causing the top to curl and fall off. I would not recommend using these products on your beloved antique ivory keys.
The results in order of the control key on the left, to the key that was cleaned, lightly sanded, brushed with H2O2, and left in a UV light for 72 hours:
After the treatment, I gave the keytop a quick polish and it just gleamed in the light - in some ways it is too white, but with timed UV exposure I am certain that the whiteness of the ivory can be controlled and matched to existing restorations.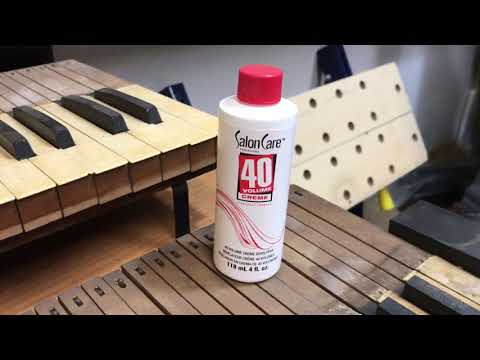 Happy restoring!
Rodney